kellankyle1
I'm so sorry I didn't post this sooner...but I won the Queer As Folk Holiday Gift Exchange Doodle by the amazingly talented

reeface
in the Raffle to benefit the Ali Forney Center.
My prompt was for one of my favorite scenes from Beyond The Yellow Brick Road by

plumsuede
and I NEVER expected the detail that Ree put into this. She got the high-tech appliances, Justin wearing Brian's favorite "
absolutely delicious, light gray, cotton, thin, clingy pant things he's wearing again with nothing on underneath them." ,
a
nd he's bending over the sink with his glass of OJ. "
He resurfaces with orange juice and a wall-to-wall smile on his face, "Brian! Look! There are deer in the backyard!"
This is absolute perfection! I still cannot believe it! I will love you forever you sweet person you!

qaf_giftxchnge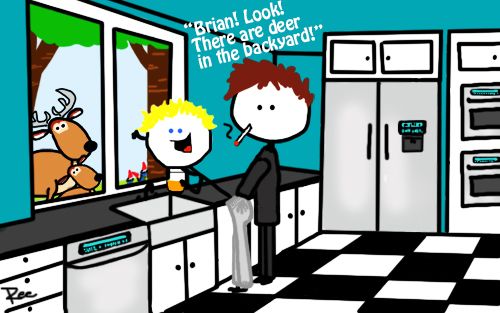 Oh...Here's the link to BYBR!
http://archiveofourown.org/works/2416424/chapters/5345390