kellankyle1
To start off…I didn't get a lot of pictures. I wasn't really hanging out at the venues, so I didn't see the cast aside from the panels. I didn't have a lot of photo ops, but I had a wonderful time.
On Thursday, I flew into Austin, arrived around 10:30 and went directly to the hotel and unpacked. The hotel was really nice and the view of the city from my room was fantastic. It sort of looks like Lego's.
Am I boring you yet? Around 3:30 Kathy and I met up for the first time and went to the Intercontinental Hotel to register for the festival. I've covered up the badge because I didn't want you to see that I've already changed my last name to Harold.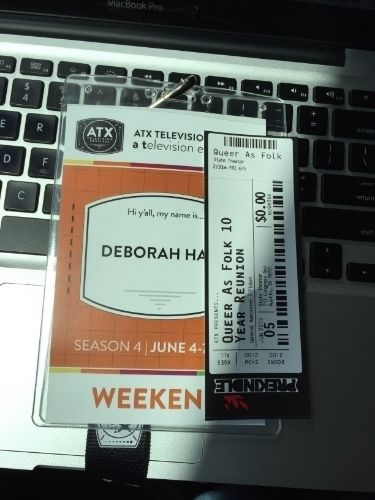 Later that day, I met H for the first time
(I have a beautiful pic with her, but I don't think she wants me to post it)
and we went to get her registered and walk around town for a while. We wanted to see where the QAF panel would be, so we went to the State Theatre and they were having a Red Carpet thingy outside, and Peter Paige was there. I didn't even notice, because I wasn't even looking for any actors (I'm such a bad fan girl). H recognized his voice and asked if it was him…I just looked around cluelessly, then saw him and froze like a deer in a headlight!
Oh...the ATX volunteer asked me to move and not hover. LOL! I swear I'm not a hover-er. I was just frozen. Peter is absolutely my favorite person!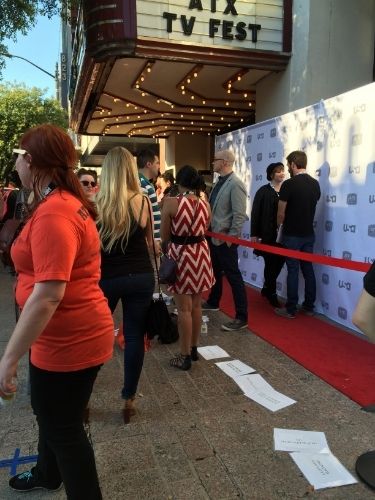 Then we found a little cafe down Congress in Austin and decided to eat outside. Shortly after I was attacked by a swarm of bees and had to move inside the restaurant. This is a true story. I wasn't stung, but I was ready to Cut-A-Bitch.
So…on Friday, there was a Pitch Competition at 10am that I decided to attend. QAF was at 1:30 and I was trying to keep myself busy. A few ladies who I hadn't met yet, we going to join me and when I saw them, it was an instant connection. I was so happy. After a few show pitches, I got bored, so we left and I needed to grab a snack.
As we were walking back, one of the ladies heard that the QAF cast was in the lounge doing a podcast and she heard Randy's voice. We hauled ass over to the hotel and inside the lounge and looked over and this is what we saw.
Kathy had a seat on one of the couches right in front of the interview area, (which was in an alcove.) Lucky me…there was a little space in between her and two other people, so I squeezed myself right beside Kathy. The other two people didn't seem upset by me squishing them. In fact, I saw them in the QAF panel and they were very friendly. I guess when you're all up on someone you feel like you know them.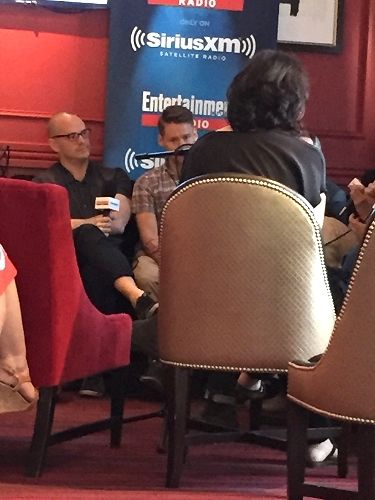 After the interview, a photographer took some pictures of the guys, which are the ones we see posted all over.
When they were done, they came out but didn't approach anyone, really they didn't seem approachable at that point. In all fairness, they had the QAF panel to be at shortly. There was a big group of ladies who had been to many QAF events and Randy's shows who he recognized and greeted with a giant smile and said hello and waved! It was really sweet.
The greatest surprise of all was Ron and Dan. I wasn't ready for how warm and genuine they were. I went to thank Ron for coming and he put his hand on my arm, looked right into my eyes and thank you for being here. They talked to a lot of fans and had pictures taken.
Kathy got pictures of her alone with Ron and Dan.
I was in a group shot with some of my new friends. Sorry for my big head blocking Ron.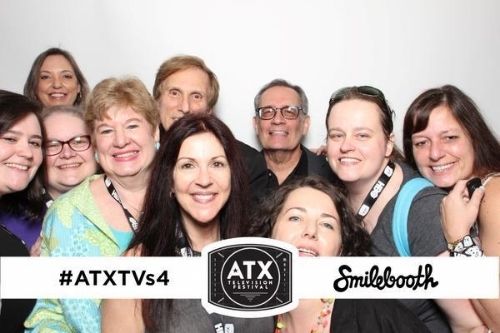 Next came the QAF panel.
OMG! Gale in denim/denim and black beater!!
Oh…the panel.
You've heard the bootleg panel stuff I guess,
Here's the link...
http://www.hollywoodreporter.com/live-feed/queer-as-folk-atx-festival-801734 so
I don't really need to remember anything…thank god! But the playfulness between everyone was wonderful to watch. At one point though, after Gale got up to mock throw things at Ron and Dan for suggesting a reboot with an entirely different cast, Gale sat back down and scooted his chair back. Curiously, Peter scooted back with him as well. It almost seemed like it was a move of solidarity. It was difficult to take my eyes off of him. Oh and Randy…
Randy was in a great mood and seemed to be having a really good, relaxing time. Someone on the panel brought up ck-socks and how they weren't used in the first season, and Randy said they used Spirit Gum and gauze. He and Gale were adorable.
I think they must have gone backstage after the panel for more interviews and pictures.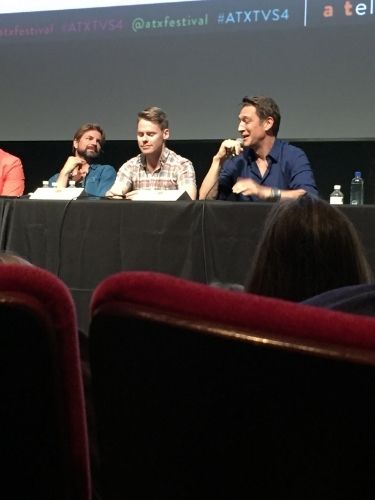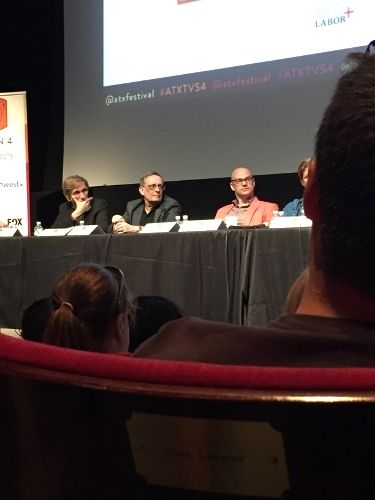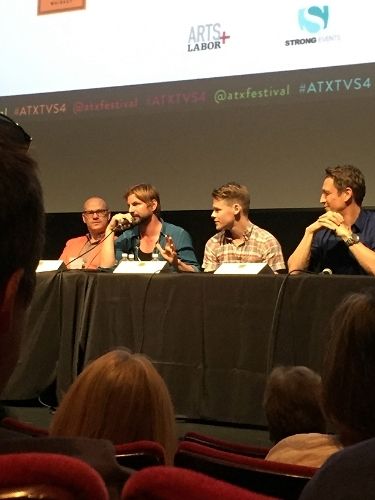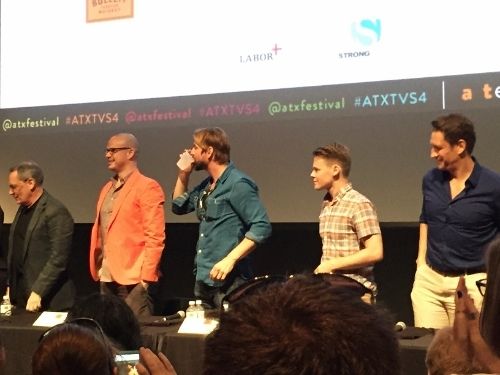 Kathy heard from the ATX staff that the guys would be coming out of the theatre doors, so she decided to wait outside to get pictures. I really didn't want to stand there, I was so freaking hungry, so H and I went to eat in the Intercontinental restaurant (which was excellent). I think I went out to see how the wait was going and Kathy's phone battery died, so I gave her my phone (I took one for the team
) and she was staked out again. BTW…the citrus glazed, cedar plank salmon was divine!
Oh yeah…Gale and everyone.
Kathy got a bunch of really great candids.
I'm worn out now and I'm at the limit for images per post…so I'll finish this tomorrow. I hope you enjoyed this so far!
Part 2
__________________
Criticism is a surreal state, like a good drug gone bad. When it's bad you want it to stop and when it's good you can't get enough. ~ Gale Harold