kellankyle1
Here is part 2 of my ATX report:
In the last episode, we talked a bit about my Thursday night arrival, meeting some AMAZING fans, who I can name now…Kathy (duh!), Heather, Kim, Kimmah, Dixie, Katy, Jule, Judith, Arta, Bob, Dena, Colleen…and if I'm forgetting anyone, I'm sorry. I swear I'm not great at remembering names. There are many others who I've spoken to while waiting in line or sitting next to, who were very sweet.
So…after QAF panel, as I said…Heather and I decided to eat and Kathy was look out for the QAF guys to come out of the theatre. It took around 45 minutes before they emerged. Apparently they had more interviews and pics to take. Kathy's patience payed off and now I have her permission to include her pics in my report. I've posted them before individually, but I thought it would be nice to have them in this post as well.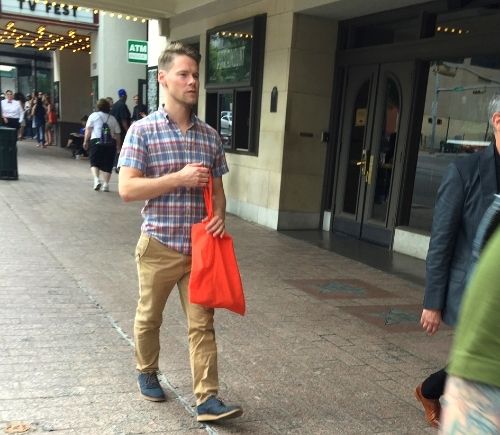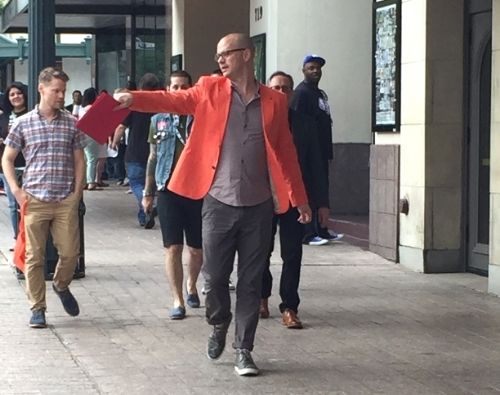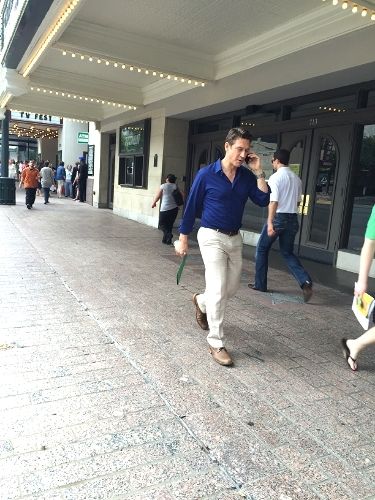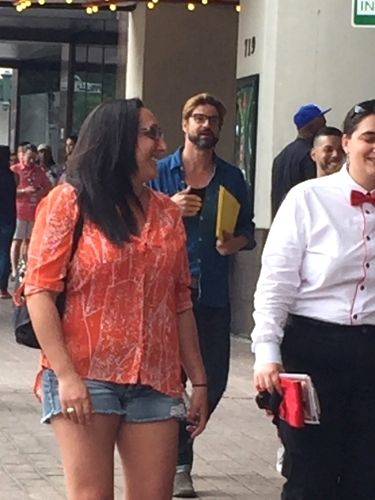 Could Gale be giving Kathy the thumbs-up? Maybe he was looking at Kathy and thinking…"I'm going to run into this girl repeatedly over the next couple of days." He looked so relaxed during the event.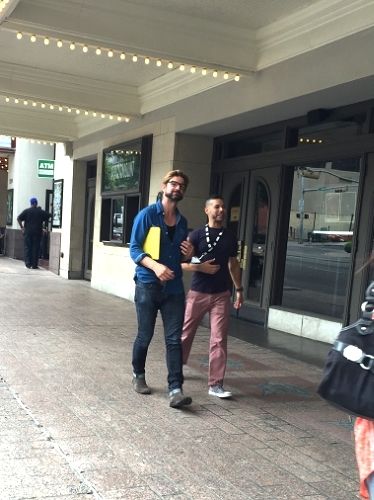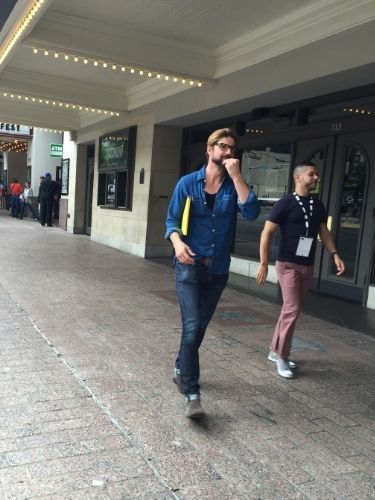 Oh…Kathy took a selfie while waiting. Isn't she cute? I think that was the van the guys got into to go for dinner.
There are some more great pics, but for some reason I haven't resized them yet. Oh…notice the folders the guys are carrying? A woman who Kathy met, made them for the cast, but felt bad she didn't have one for Randy since she didn't know he was attending. I'm not sure what she had in them, maybe Kathy knows. But I thought it was nice that they had them. Oh…she waited inside the theatre, at the door to meet them before they exited.
That evening Kathy and I met to attend the FX Comedy Night previews and panels, which we had fast passes for. There were two before the Denis Leary premiere of Sex&Drugs&Rock&Roll. Apparently those shows,
Married
and
You're The Worst
are current shows that I had no knowledge of. I did recognize some of the actors/panelists and they were funny, but not to my taste.
I've loved Denis Leary since the early 90's and he's always been "what you see is what you get", which I absolutely love. He would be the epitome of "no apologies, no regrets". Love that guy.
He was really sweet to take pics with us and had a great conversation with Kathy, since they grew up in the same area. Here are our pics. As you can see, my timing and focus is a lot better.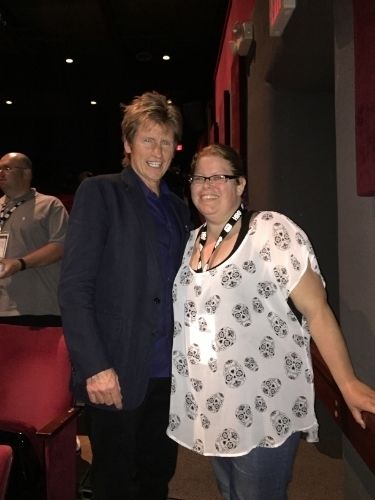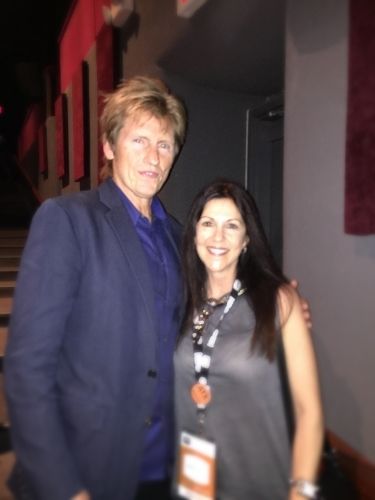 After the show, we were walking back to the hotel. It seemed like every single bar along 6th had a live band playing. Walking by, I heard a band I wanted to to see and we headed upstairs. We watched one and a half songs, and Kathy wanted to go back…it was really hot and late. Since she's such a good person, she didn't want me to go back alone, so she passively convinced me to go back with her. Some of that area is really dangerous.
On Saturday, the only thing I had planned was "A Kiss Is Just A Kiss" with Ron, Dan, Peter and Gina Fattore of Dawson's Creek.
It was fantastic. Ron and Dan got to talk about their TV movie "An Early Frost", which was made about and during the 80's AIDS crisis, where the characters could not show any affection at all. They felt the message of the film itself was too important to worry about that.
Peter was his usual AMAZING self. Gina didn't get to say a lot, but apparently Dawson's Creek was the very first TV show to show a male/male kiss, in May 2000. I've never seen the show, but I could imagine it might have caused quite a stir back then.
I didn't get pics of that panel, but….I got to talk to Peter for a moment and Kathy caught it on film or digital or whatever you call it on a phone! That man is just the best EVER!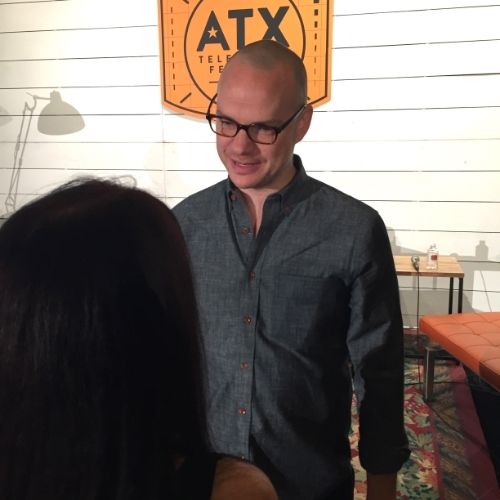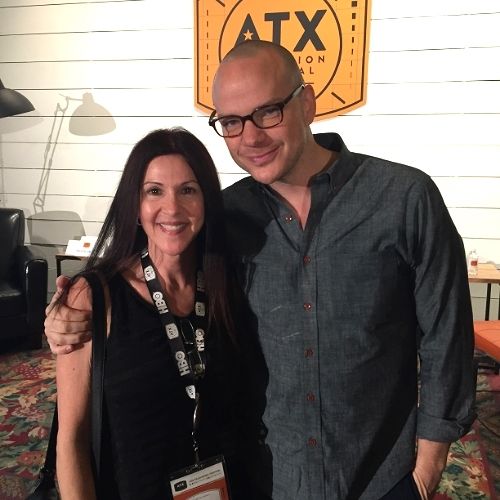 The rest of the day was spent walking around. At this point, I was resolved that I'd never see Gale, so I was intent on keeping myself busy.
I even got to see the Capitol Building! Also…I think we visited every Starbucks in downtown Austin. LOL!
Heather and I went to meet with Kim and Bob, who are absolutely lovely people and shared a meal together. We were then joined by some other ladies and really had a nice time.
And…I made another new friend!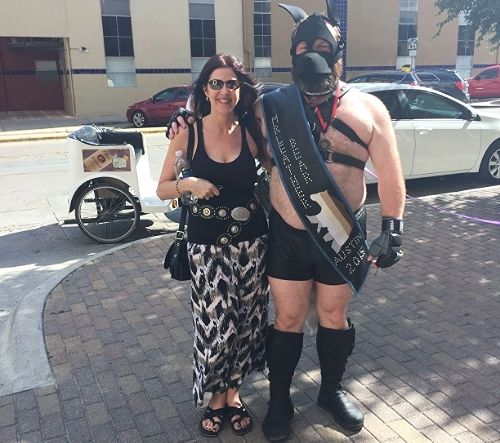 Dena, Heather and I decided we were going to find some live music to watch. We ended up in a Dive!Bar (Surprise!) and watched a few songs of an AWFUL Stevie Ray Vaughn cover band. It was truly awful. The we decided to walk a bit more.
As we were walking around, we spotted the Austin Pride parade and I decided I wanted to follow it. Heather and Dena decided to go to the Intercontinental hotel and Heather would find me. I said okay and proceeded to run and catch up with the parade!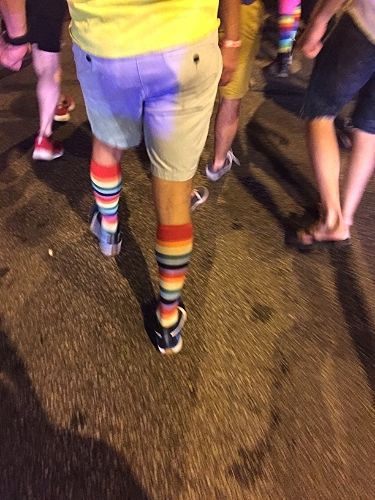 So…this is where my night changed. I looked back and couldn't see where the parade ended and started seeing the area was getting bad. Finally I asked one of the participants if the parade will circle around to and he told me that it already did. I knew if I didn't head back, I'd be lost. So I hauled ass back towards the hotel and a more populated area.
I got to the hotel and Gilmore Girls had just let out and I tried to call Heather to see where she was but got no answer. I spotted Kathy and started talking to her and her new friend, when Heather called. I said "Where are you?"…she whispered, "With Gale". OMFG!! I looked into the lobby window and THERE HE WAS!! Oh My-FUCKING-G!!!!!!!!!!!!!!!!!!!!!!!!!!! I think I just walked away from Kathy without even realizing what I was doing.
There was one girl talking to Gale, and she was going ON AND ON AND ON…you could see how Gale just wanted to escape. He wasn't being rude, she was just wouldn't stop. He even did a little vaudevillian move, like exit, stage left. He told her he had to go…and I very quietly said "Gale? Can I please take a picture with you?" He sweetly, in his soft, slightly southern voice said, "Okay…but I really have to go". I gave Heather my phone to take the picture and with shaking hands she managed to take it. I said, "Thank you", he said "you're welcome". Then he went over to Peter and I guess they were heading over to the industry event. I was shaking and my legs were like jello at that point. Heather and I just looked at each other and got out of there. OMFG!! Did I already say that?
He did NOT have to stop. He could have told me no. But look...now we're in a relationship, forever and ever and ever.
(in my mind).



One more thing...Kathy spoke with Lesley Goldberg, who was the moderator for QAF and she told her that she was at the closing party for the industry and Gale was awesome. Lesley said she had heard some stories that were not so nice, but found him great. She said he was holding court and partying it up...he was super sociable. :)
If it wasn't for Austin Pride, this may never have happened.
Sunday was The Fosters panel (the last panel of the festival) and there we got to pre-screen S3 premiere episode, which was awesome. Peter and the cast sat in and heard the audience reactions to it… live! Believe me…we reacted. It was AMAZING. I felt really honored to have been in that audience.
Peter, Teri Polo, Sherri Saum and Kerr Smith attended the panel. Teri was absolutely ON…the entire time! It was hard keeping up with her. It was a great panel though and I even got to ask a question during the Q&A. Basically it was about a specific episode that really affected me emotionally and how it felt to play it. I was so nervous and I'm not even sure if I was coherent in asking. :-D Teri and Sherri are absolutely GORGEOUS!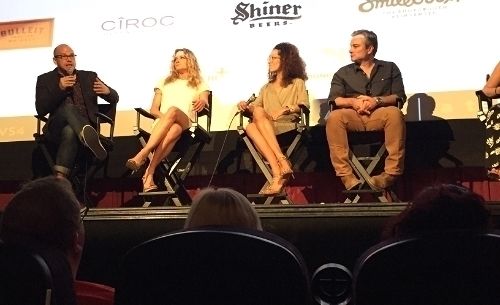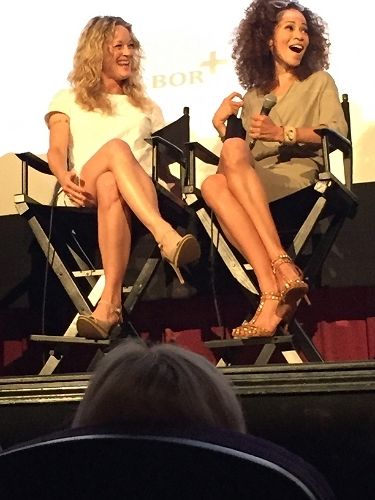 Anyway…that night several of us had dinner and decided to go to see the Congress Avenue Bridge bats. They are supposed to come out just as it gets dark, but we waited until around 10pm and they never came out. I did get to watch a lot of activity when I leaned over the bridge, but you'd think out of 1.7 million bats, at least some would fly out. In all fairness, we were told it was mating season…so I guess the bats were gettin' busy. If you know what I mean.
But we did see this view from the bridge.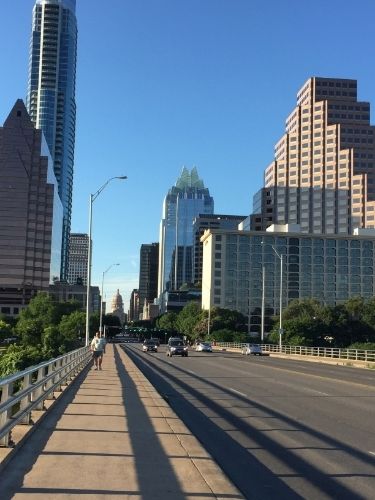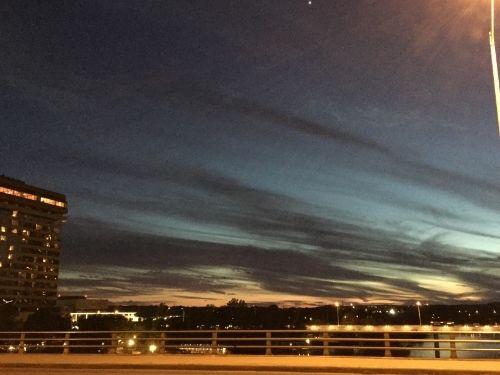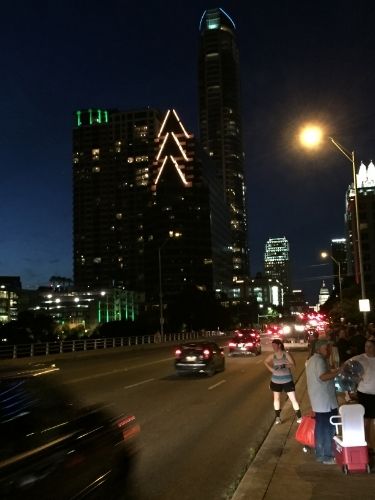 So…this was my story. I hope you enjoyed it!
Back to Part 1
__________________
Criticism is a surreal state, like a good drug gone bad. When it's bad you want it to stop and when it's good you can't get enough. ~ Gale Harold