Brian is helping Justin by walking with him down Liberty Avenue:
Justin grabs onto Brian
…
Brian:
Ow!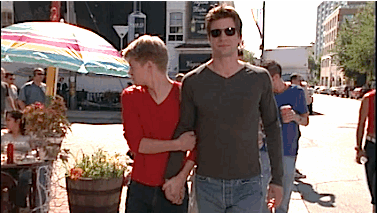 ( More B/J Goodness below! )

I love this episode so much! I find it hard to express in words, so I will let my gifs speak for me. Here's the first set. Enjoy!
The group watching Gay As Blazes at Woody's:
Brian:
Where's the sucking…and where's the Fucking?
Melanie:
Jesus…don't you get enough of that at home?
( More Gif's below the cut )