Please bear with me…I am ranting and
RAGING
about episode 502:
After the incredible reunion sex, Brian reaches for a cigarette and see's Justin's storyboard art, and asks Justin,
"What's this?",
which is obviously him Fk'ing Connor,(not Brian as Rage)…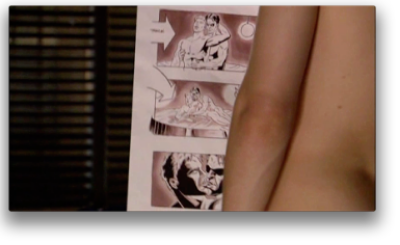 and Justin goes on a roll, saying how wonderful L.A. was — Brian says:
"It must have been quite a let down after all that"
(I am crying) and Justin has that condescending look of agreement and disappointment.
Then…Justin says,
"There's one thing Pittsburgh has that Hollywood doesn't"
. Then Brian gets a look of relief. Good save, Justin! (Ass-Hole)
Then Justin says,
"If the offer still stands"
(pause). Of course it still stands, you selfish prick! You act like he's your consolation prize. What did you think he was going to say? You have no place to go, nowhere to live, so you come back to Brian, who you know has ALWAYS taken you back no matter what you did to hurt him! Bastard!
I am completely enraged! Would you believe that the first time I watched this was last June? I'm angrier about it now than before! Thanks Season 5!
Love, Deborah
*P.S. that's not me in the icon. LOL!